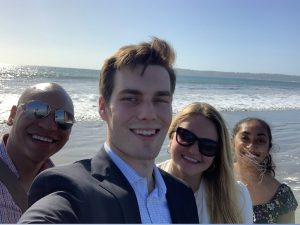 By Randhika Aturaliya
I have been a Global Ageing Network intern since January and it has opened my eyes to the ageing field. Last month, I attended the LeadingAge Annual Meeting in San Diego, CA, and was excited to immerse myself in the field with thousands of ageing services leaders from around the country and world. 
I arrived on the first day of the conference on Sunday. I was greeted by the large convention center bustling with people in business suits, brandishing their LeadingAge conference name tags. This was my first conference and the number of people made me overwhelmed, but also incredibly excited. I wanted to learn what people all over the country were doing to support older adults in their community.
The first session I attended was on leadership. I was seated at a table with various executive directors from nursing homes and senior living communities, along with an intern from Israel. It was fascinating to hear their perspectives and the unique issues that they found in their communities and workplaces. The speaker explained the importance of addressing the needs of your teammates and establishing a support network of people to help you find the answers you don't know. My eyes were opened to the collaborative nature of leadership. As a leader, you don't have to be all-knowing, you have to be self-aware and dedicated to serving your staff and community. At our table, we discussed methods of promoting effective teamwork. The leaders at my table told stories of group bonding events they hosted and disruptors in their teams. 
After the session, I attended a networking lunch with the students in the LeadingAge Student Program and other aging professionals. The students I met were from all over the country — including Kentucky, Wisconsin, and California. Every student I met was motivated to get their foot in the door in the ageing industry. Most of the students I met were focused on the health care side of the ageing industry, which was interesting to learn since I am more focused on the public health perspective.
As I've learned more about the field, I've grown interested in governmental affairs, global health, and housing policy. The students I met worked in nursing homes and want to become administrators in training (AITs). I loved hearing about the diversity in experiences that people my age had. It made me feel like the next generation has fresh perspectives and ideas that can help benefit the field. 
I was thrilled to attend a session on affordable housing. My internship has opened my eyes to the issue of affordable housing for older adults who have limited incomes. It was an issue that I have never really considered until now and I really wanted to see how leaders in the field have tried to address this challenge. In the session, I learned about the Green House model, which is a group home where 6-10 older adults live together. This model facilitates meaningful relationships and independence, which is integral to the aging process.
Another session I enjoyed discussed issues impacting LGBT older adults. The speaker worked at SAGE, an organization dedicated to advocacy and services for LGBT elders. LGBT elders require a space for them to continue to explore their sexuality and gender identity. She told us a story of an older adult who's daughter would paint his nails, do his makeup, and dress him up. The daughter found that a care worker would remove the makeup and nail polish and change her father's clothes.
Attending this conference was an incredibly rewarding experience that made me excited for the future. I loved being surrounded by passionate and driven people who want to improve the lives of older adults. Every person I met at the conference was eager to talk to me and learn about my interests as a college student delving into this field.
You need to login in order to like this post: click here