World Health Day
 

commemorates the anniversary of the World Health Organization (WHO) and is celebrated on the 7th day of April of every year.  This year's World Health Day theme was centered around a subject that affects people of all ages, backgrounds, cultures from all over the world.
Depression: Let's Talk is a campaign to increase global awareness about depression, which affects more than 300 million people worldwide. This number has increased by 18% between 2005 and 2015, as reported by the WHO.
Depression is noted to peak in older adulthood, affecting more than 7.5% women and 5.5% men aged 55-74 years old. It is also, sadly, often overlooked.
Signs associated with depression can include:
loss of interest in activities that they would normally enjoy and inability to carry out daily activities, for at least two weeks

loss of energy, change in appetite; different sleeping patterns; anxiety; reduced concentration; restlessness; feelings of worthlessness, guilt, or hopelessness; and thoughts of self-harm or suicide.

depression among older people is often associated with physical conditions, such as heart disease, high blood pressure, or diabetes. Life events, such as losing a partner; and a reduced ability to do things that were possible when younger, may also contribute to depression.
In observance of the this year's World Health Day, Juno Medical has published the following infographics on depression statistics around the world as well as six ways in which you can help an older adult with depression.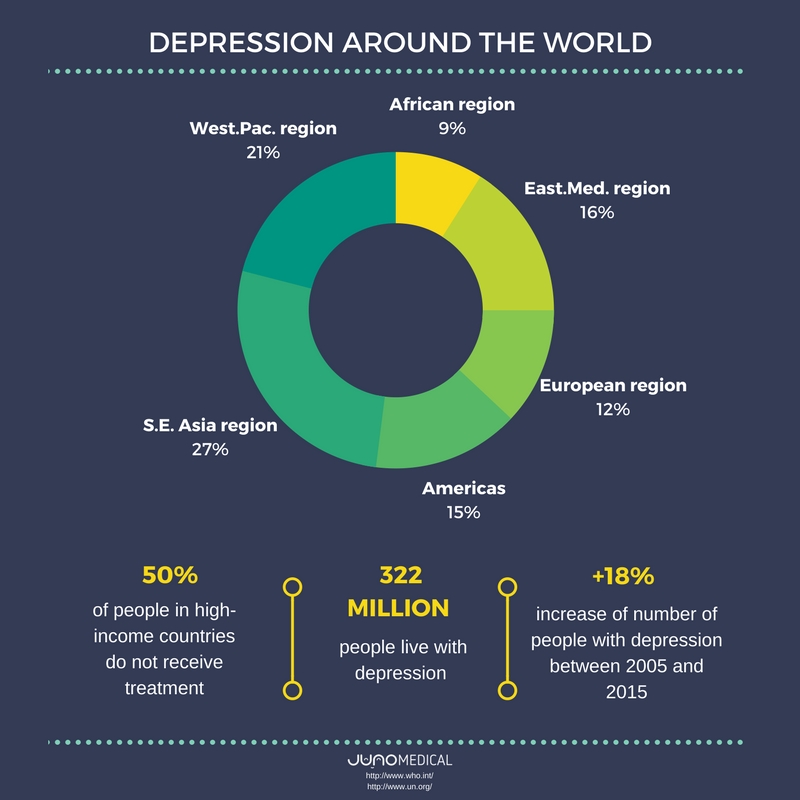 You need to login in order to like this post: click here