Marcus Riley provided the statement to 10th Open-Ended Working Group on Ageing at the United Nations on behalf of the International Association of Homes and Services for the Ageing (the Global Ageing Network)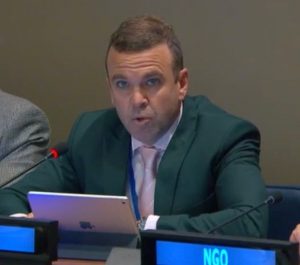 Our association, otherwise known as the Global Ageing Network, is pleased to present a
statement on behalf of the organisations we represent from around the world. We endorse
the joint position statement presented by the Global Alliance for the Rights of Older People
to the opening of this session.
As has been expressed by many during this session already, we must do better in protecting
the rights of older people. However, not to simply be free from suffering or fear in later life,
but to fully participate in society across the life course. For instance, those who have and
continue to contribute to the well-being of their families and communities throughout their
lives should not be burdened by poverty in their later years. Through poverty, dignity, and
opportunity are at risk. Consequently, older adults don't then live a life of purpose until they
die; they simply fade away. We cannot consider poverty in old age without considering its
root causes such as access to education.
With members and partners in over 60 countries, we know, through our work and the work
of our members, that as a global society we have not adequately harnessed the energy, the
experience, and the wisdom that comes with age. Older people are being denied the right to
fully participate.
We therefore strongly advocate for universal access to education and training at every age
and for mechanisms that support lifelong learning and capacity building. The benefits of
life-long learning are well documented and, with the pace of change, life-long learning is a
necessity. Job design, science, technology, and other factors are accelerating the pace of
change, demanding that access to education through the life course is a right that must be
protected.
The opportunity to positively impact the current generation of older people is disappearing
rapidly. Let us not also fail the emerging generation of older people.
Though there has been a lack of action to date there is no lack of will from many to do what
is required and begin now the drafting of a convention to protect the rights of older people
such as the right to education.
You need to login in order to like this post: click here