The Global Ageing Network thanks Dr. Chang Hoon Ko from South Korea and Imja Choi for their 2 May "Wisdom Talk" presentation. Chang Hoon Ko is an author and president of World Association for Island Studies. Dr. Ko also serves as the co-president of Global Ageing Network Korea.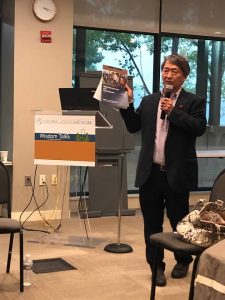 Dr. Ko provided a brief background about Jeju province and the rapidly ageing population in South Korea. Jeju island is an island of Jeju province in South Korea and is known as "an island of longevity." Jeju has committed to becoming more age-friendly and was designated as an UNESCO World Natural Heritage site. Jeju is working towards becoming a carbon-free island through the implementation of clean energy and uses wind, electric vehicles, and recharging stations as alternatives.
As one of the Treasure Islands of the World, Jeju offers elders an opportunity to live in a mystical and natural environment, and participate in unique cultural activities around the island. There are Jeju female divers, or "sea woman," some of who are in the 80s. They will dive 10 meters in the treacherous waters of the Korean Strait to gather shellfish without oxygen masks! They provide their community with the fish that they catch, providing 60% of Jeju's fisheries revenue.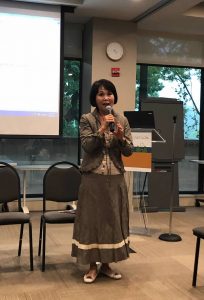 Imja Choi serves as the CEO and founder of the Penn Asian Senior Services (PASSi) organization. PASSi is a nonprofit organization founded by Imja Choi. Choi created the organization during the process of caring for her mother who had cancer and spoke only Korean and couldn't tolerate American food. PASSi became the first agency in Pennsylvania to address culturally considerate home care services for vulnerable Asian seniors and it is now one of the most dependable homecare agencies for Asian immigrant seniors in the state.
As of 2012, 65% of Pennsylvania's Asian population lives in the Greater Philadelphia area. Many of the aging Asian elders face issues with transportation, communication, Alzheimer's disease and dementia, isolation, and language and cultural barriers. PASSi offers home health care to frail seniors to support their preference to live at home. PASSi serves over 600 home-bound clients with over 520 trained Home Health Aides (HHA) who are proficient in the client's native language. Many of the recipients of PASSi's services are primarily low-income, frail, English-limited Asian American seniors. PASSi employs a diverse bilingual or multilingual staff to effectively serve and build trust among the region's aging Asian communities.
In May 2014, PASSi opened an enhanced adult daycare facility to provide culturally appropriate on-site personal care focused to serve Asian seniors. Further, PASSi just completed a 15,000 square foot senior center in March 2019 with a state-of-the-art kitchen with the capacity to provide 350 free Asian meals daily. Food is a major component of comraderie and unity in Asian culture. It also provides seniors with a feeling of home. PASSi has proven to be an innovative organization and the Global Ageing Network was proud to highlight their achievements as the winner of the Global Ageing Network's Excellence in Ageing Services Award in Switzerland in September 2017.
To see the "Wisdom Talk" in its entirety, please visit the Global Ageing Network Facebook Live page.
You need to login in order to like this post: click here