By Aline Le Clef, Sodexo Belgium (Guest Post)
Sodexo's "Dignicare" meal program focuses exclusively on seniors with dementia. Because residents with dementia, just like other groups in need of care, require a customized approach to improve the dining experience and the meal experience. To support the program in a scientific and practical oriented way, we were able to rely on the know-how and expertise of Paradox, the Regional Expertise Centre for Dementia. The result is a unique offering aimed at the elderly with dementia that focuses on nutrition through a customized range of food. In addition, Sodexo provides tips & tricks to improve the quality of the dining experience. For example, providing guidance on design and decoration (e.g. use of colour on walls and floor, attention to the presence of a calendar and clock, etc.) to create a home-like meal environment in which residents feel at home. Sodexo also attaches great importance to incentives that stimulate appetite, thinking of familiar dishes, but also specially adapted eating and drinking utensils in contrasting colours that enhance independence during the dining experience. In short, Dignicare contributes greatly to a pleasant meal time and increases the quality of life of seniors with dementia.
Drawing from its many years of experience within the healthcare sector, Sodexo works in cooperation with the client to create a unique dining profile of each resident. Therefore they are able to offer meals that match the resident's personal preferences and limitations, such as:
Finger-foods
Motor and/or cognitive impairments may be a significant obstacle during the dining experience.
Finger-food facilitates the dining experience for seniors who have difficulty eating with utensils.
These meals are in all respects the same as those prepared for other residents, except for its shape. The dishes are prepared in a way that makes it easy for them to pick the food up and eat with their hands. The plates and glasses are specially adapted as well. Thanks to finger-food the transition to assisted eating is delayed, which relieves the assistance during meals. In addition, this concept has a positive effect on food intake with less risk of malnutrition. Moreover, some seniors will begin to use utensils again. In short, finger-food increases autonomy during the dining experience and results in a more pleasurable dining experience and increased dignity.
Home Made Soft

Home Made Soft stands for home-cooked meals where the texture of the dishes can be individually adapted to the needs of people who have problems chewing and/or swallowing. As a result, seniors who have these limitations can again start to fully enjoy their food. The offering consists of a range of recipes that are used to carefully create and prepare the meals using the best ingredients.
Offering meals in a Skilled Nursing Home is a complex process: the different limitations and challenges of residents always requires a customized approach. This is even more the case with a specific approach to seniors with dementia. It is therefore very important that the vision of Sodexo coincides with that of the client. The commitment to work with a shared vision with respect to meals, makes every Dignicare application a unique collaboration between Sodexo and client.
Join us in Montreux Switzerland this September to attend Dignicare: Creating a Home-like, Private Environment for Residents with Dementia where presenters, Aline Le Clef and Serge De Kerf will share more about the impact of Sodexo's Dignicare program on residents with dementia. Visit the 2017 Global Ageing Conference website to explore and register for this year's education program.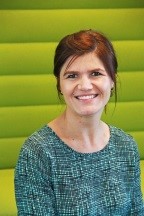 About the Author
Aline Le Clef, Sodexo Belgium
Aline Le Clef certified nutritionist, is currently pursuing a Master of Science in Health Care Management and Policy. She joined Sodexo in 2008 and started in operations within the Seniors segment and subsequently became Quality Manager for that segment. Driven by her interest in elderly care Aline evolved to the position of Marketing Manager Seniors Benelux and developed Dignicare as an answer to the challenges of the future market. As our life expectancy increases, one side effect is the growing population of residents with dementia in residential care facilities. Currently 40 to 50% of all residents of 85 years and over suffer from some form of dementia. Thanks to her background as a nutritionist she is well placed to develop the appropriate initiatives to improve their quality of life, in line with Sodexo's mission to provide innovative, tailor-made services to these residents.
Aline will presenting "Dignicare: Creating a Home-like, Private Environment for Residents with Dementia" at the 2017 Global Ageing Conference in Montreux, Switzlerland.
You need to login in order to like this post: click here