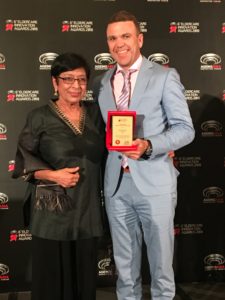 The Global Ageing Network is proud to announce that Marcus Riley has been recognized as a Global Ageing Influencer. The award was officially recognized at the Ageing Asia 6th Asia Pacific Eldercare Innovation Award ceremony which was held on 16 May 2018 in Singapore. The awards is the first of its kind in the Asia Pacific region that recognizes the best in eldercare product and service delivery.
Marcus Riley has served on the Global Ageing Network's board since 2014, including as Chairman for 2 years. He is the Chief Executive Officer of the Hibernian Society, a charitable organization and public benevolent institution which owns and operates BallyCara Retirement Living & Aged Care. BallyCara is a nonprofit organisation providing services throughout South East Queensland and the northern suburbs of Melbourne.
Paul Johnson shared the announcement shared with friends and colleagues at BallyCara, "The award recognizes Marcus as a passionate thought leader and innovator who continuously challenges traditional boundaries to change the future of how we age here in Australia, as well as globally."
Katie Smith Sloan, Global Ageing Network executive director, describes him as "persuasive in the drive towards improvement, including leading the adoption of a new brand and fostering widespread engagement and growth."
Marcus Riley has been instrumental in advancing our work at the United Nations and serves as the Asia/Pacific Region Focal Point on the Stakeholder Group on Aging (SGA) to implement the United Nation's Sustainable Development Goals. His passion for international collaboration on ageing has inspired the network to engage in meaningful dialogue and action to improve the lives of older adults around the world.
Congratulations, Marcus Riley!
You need to login in order to like this post: click here