At the "Wisdom Talk" in January 2019, The Global Ageing Network welcomed Kate Bunting, Executive Director of HelpAge USA, to discuss the work HelpAge USA  does in partnership with HelpAge International to improve the lives of older people.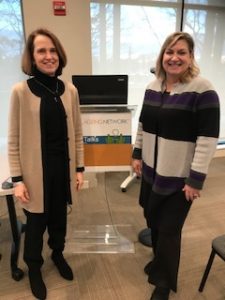 HelpAge USA was established in 2009 with the mission of advancing the well-being of older people and to reduce poverty and discrimination in later life. HelpAge works to allow older people to live their lives with dignity and to live independently. One of their primary areas of focus has been to provide aid during humanitarian crises, including ensuring that older people have  access to food and healthcare.
Work begins at the community level, where HelpAge works with community organizations, to support and create direct programs. At the global level, HelpAge is one of many NGOs, including the Global Ageing Network, working with the United Nations to promote a human rights convention for older people. Lastly, at the government level, they provide training and educate/influence policymakers on beneficial programs such as social pensions..
In the past, HelpAge International has worked with the Rohingya refugees who fled to the coastal region of Bangladesh. Bunting noted that during humanitarian crises, older people often lose their rights. In the case of the Rohingya crisis, older people were combined into households resulting in a loss of independence and the ability to advocate for themselves.
To help the older Rohingya refugees, HelpAge International created age-friendly spaces, such as washing stations with grab bars, provided mobile healthcare and age-friendly counseling, and collected data on the needs of older people.
Among the issues that HelpAge International seeks to address are: 75% of people dying from noncommunicable diseases live in lower-income countries, 60% of older people globally can't afford healthcare, and the care giving gap for older people living at home is growing.
HelpAge Korea developed a volunteer, home-based care program that has expanded to all 10 ASEAN countries. The home care model has 8 steps, beginning with identifying the people in need, selecting clients, developing a needs assessment and care plan, matching older people with volunteers, providing services, and finally monitoring and reviewing the plan.
HelpAge has advocated for a universal social pension which, research has demonstrated, is beneficial for older people and families. A study in South Africa that focused on grandmothers found that grandmothers with a social pension were able to help their granddaughters. In addition, HelpAge works to fill data gaps since people 60-90 are often lumped together in research and their needs are not adequately identified.
Attendees of the "Wisdom Talk" discussed how older people are disproportionately affected by natural disasters. During the earthquake in Haiti, for example, HelpAge USA donated money and worked with other nonprofit organizations to account for the needs of older people during this humanitarian crisis. They provided cash loans to older people so they can make their own health decisions.
HelpAge International and its partner are making a difference by improving income security, advocating for change, filling data gaps, and strengthening civil society.
The Wisdom Talks presentations can be found on the Global Ageing Network Facebook Page.
You need to login in order to like this post: click here