October 1 is International Day of Older Persons (#UNIDOP). This year's theme is: "Stepping into the Future: Tapping the Talents, Contributions and Participation of Older Persons in Society."
The theme is about enabling and expanding the contributions of older people in their families, communities and societies at large. It focuses on the pathways that support full and effective participation in old age, in accordance with old persons' basic rights, needs and preferences.
Participate in #UNIDOP by sharing on social media.
Sample Facebook posts:

Celebrate  #UNIDOP with us by tapping older persons' talents, recognizing their contributions, and encouraging their participation in society.

#Ageism undermines older persons' rights and hinders their contributions to social, economic, cultural and political life. Celebrate #UNIDOP by fighting ageism in your community.
Sample tweets:

Celebrate #OlderPersons by tapping their talents, recognizing their contributions, and encouraging their participation in society. #UNIDOP

#Ageism
Save and share this #UNIDOP infocard on your social feeds: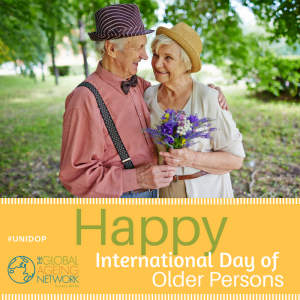 [icon image="fa-download"] [download-attachment id="3704″ title="Download UNIDOPInfocard.png"]
You need to login in order to like this post: click here