By Miwako Honda, M.D., Director of  (Guest Post)
In a rapidly ageing society, Behavioral Psychological Symptoms of Dementia (BPSD) management is one of the key challenges. Moreover, nursing staff caring for elderly patients with BPSD have potential to burn out quickly when adequate training and resources are limited. The high turnover rate of caregivers in nursing homes and hospitals is a critical global issue.
The french-origin, multimodal and comprehensive care methodology, Humanitude®, focuses on perception, emotion and verbal communication to provide care for patients, especially fragile elders. It has been taught widely in hospitals, nursing homes, assisted livings and homes for more than 40 years. Relationship-based care is the key of this methodology.
Many nursing homes and hospitals in France, Germany, Switzerland, Belgium, Luxemburg, Italy, Portugal, USA, China, Thailand and Japan have started to implement the Humanitude® methodology. The training has been done in hands-on style at each community. The demonstrated effect of the training is a significant reduction of BPSD and prescribed anti-psychological medications for elders residing nursing homes. In addition, satisfaction among caregivers who have received the training has increased, resulting in a significant reduction of turnover.
In the past 6 years, the Humanitude® has expanded its training platform to video-based education. Professional caregivers record videos of their care in difficult situations. The videos are then evaluated by certified trainers. Through the evaluation, trainers are able to identify and advise caregivers on which part of multimodal communication is missing. The accumulation of data from the videos and evaluations has made it possible for Humanitude® to develop an auto-video analysis system (informatics) through artificial intelligence—which is now available. Currently, there are 4 ongoing governmentally funded studies on this methodology with informatics researchers in collaboration with physicians, nurses and psychologists.
In Japan, a rapidly growing ageing population, the management of people with cognitive impairment is crucial. In response to this challenge, Fukuoka city, which has a population of 1.5 million, launched the project "Humanitude City". In 2016, a 2-hour workshop was held for family caregivers who are taking care of cognitively impaired elders at home. The workshop included auto-video analysis. 148 family caregivers were enrolled the study. After the workshop, a post card to teach the point of care was sent weekly for 12 weeks. In 3 months follow up of this low cost intervention, family caregivers reported a significant reduction of burden, as well as improvement of BPSD for the elder. Fukuoka city is continuing its project for an additional 3 years.
Want learn more about this project? Join Miwako Honda, M.D. in Montreux this September 18-21 for the Global Ageing Conference. Presenters Miwako Honda, M.D, Yves Ginest and Yoichi Takebayashi will share the basis and philosophy of the Humanitude® methodology, scientific research results and the future of dementia care. Register here.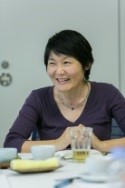 About the Author
Dr. Miwako Honda, Director, Geriatric Research Division, National Hospital Organization Tokyo Medical Center, Tokyo, Japan
Dr. Miwako Honda, earned both a law degree from Keio University and a medical degree from Tsukuba University. Dr. Honda currently serves as director of geriatric research division of National Hospital Organization Tokyo Medical Center, Japan. She had completed fellowship of geriatric medicine at Cornell University and has many experiences of clinical research. She started to implement Humanitude to Japan in 2011, and has developed training system for professional caregivers, education curriculum for medical and nursing schools in Japan.
You need to login in order to like this post: click here