A Common Wealth of Experience: Freedom fighters, child brides, and other untold real life stories
by Ingrid Eyers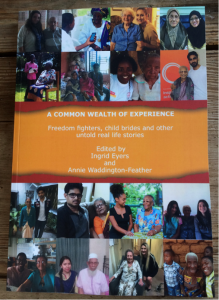 In an undertaking aiming to contribute towards reducing ageism in society, young people aged (16-24) were encouraged to talk to an older person about their life as part of a writing competition.
For the stories to come from a distinct, but global community, the competition was confined to the 53 Commonwealth countries where many speak English as a second language, and all have a historical link to Britain. The project was supported by CommonAge, the Commonwealth affiliated Association for the Ageing, an organisation that includes many GAN members.
To celebrate the Commonwealth at 70 years in March 2019, CommonAge launched its unique book created from this project. The collated 50 stories take the reader on an exciting journey across 22 countries, encountering people aged between 73-101 recalling natural disasters and wars, cultural influences and life events. This book, written by young people, will also be read by young people, and hopefully change their perception of ageing
"These stories are privileged insights into personally endured experiences over the last 90 years," says co-editor Dr Ingrid Eyers. "It is interesting to see the importance of education and family featuring strongly in many stories."
The storytellers come from a wide variety of backgrounds and cultures. Stories from Africa include a Malawian describing dancing for rain. From Cameroon, we are told about the stigma of living with infertility. While a 96-year-old in South Africa describs how she harboured political activist Billy Nair, who was Nelson Mandela's lawyer.
From Asia, a Sri Lankan describes his tenacity for education despite coming from a poor background. In Bangladesh, a botanist talks his love for botany and his survival of a bombing in WWII. Also in Bangladesh, there are freedom fighters and child brides. While in Barbados, a renowned sporting legend tells of the challenges to overcome racism. We also read of women described as 'trailblazer for women's rights' and 'visionary nation builders.'
Reducing Ageist Attitudes
Young authors wrote about what they had personally gained from the conversations, with several saying they had gained a new respect for the older generation.
Two 16-year-olds from Cyprus wrote, "hearing the life story altered their view on society and its flaws."
A young Maltese commented how much more she now appreciated that today Malta is at peace, she has a roof over her head, and has food to eat. If it hadn't been for the sacrifices of people like the older person she spoke to, history and our lives would have been very different.
An Australian writer commented on how much more knowledge she'd gained regarding her country, and was intrigued to learn about and older generation and how different it was to hers.
An Indian writer spoke to an older lady living with dementia. Compassionately explaining that, while his storyteller didn't remember life events and fails to recall daily information, as a music lover, she spoke about the many varieties of classical, folk, modern songs, and the much loved songs of Tagore.
Annie Waddington-Feather, co-editor, also points out that an unexpected result of the book is that now personal details of historical events have been recorded for generations to come.
For many authors, English is not their first language. Each story has its own very individual style and reflects the personalities and culture of the authors and storytellers.
"We have respected these aspects and have kept editorial changes to an absolute minimum," they say. "We have been moved to tears reading some of these stories, and we sincerely hope readers find the book interesting, informative, and inspirational."
The book is available to download free of charge on the Commonage website www.commage.org.
Notes to Editors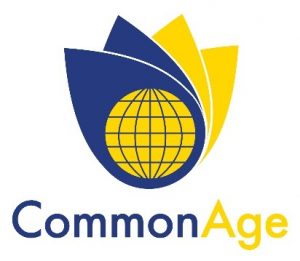 CommonAge was established in 2013 by a group of professional leaders in the aged sector and is an accredited Commonwealth civil society organisation. Its aim is to ensure elders in all Commonwealth countries are supported to enjoy the highest possible quality of life in their senior years. From Australia and Antigua to Vanuatu and Zambia, through its growing networks it is sharing ideas, creating connections, and combating ageism across the 53 countries of the Commonwealth.
For further information contact the editors: Annie Waddington-Feather 07713 646419 or annie@wadders.co.uk, or Ingrid Eyers, dr.ingrid.eyers@gmail.com.
A selection of four photos relating to the content are below. We have signed, informed consent to use the photographs and tell the stories.
You need to login in order to like this post: click here