Aging | Global Ageing News | Global Aging |
July 29, 2019
Visiting Jeju Elders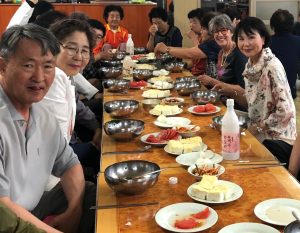 by Geralyn Magan
Fostering Resilience through Collaboration
Many older people around the world face unique challenges as they try to build healthy and meaningful lives after experiencing trauma in their youth. But collaboration among professionals in the worldwide field of aging services could go a long way toward offering these elders needed support through proven models.
That's the main message of a recent blog by Robyn Stone, senior vice president of research at LeadingAge and co-director of the LeadingAge LTSS Center @UMass Boston. The blog describes
Stone's experiences during a recent trip to South Korea and Cambodia. Stone traveled to Yonsei University in Seoul to participate in a spring symposium on healthy and meaningful aging sponsored by the Global Ageing Network Korea. A few days later, she and other symposium participants took a 1-hour flight to visit with older adults living in Jeju, a pristine island located in the Korea Strait. Stone then visited friends in Cambodia before returning to the U.S.
Recovering from Trauma on Jeju Island
Stone's blog begins by describing her encounters with older adults who lived through the suppression of an attempted uprising that resulted in the death of 60,000 residents of Jeju Island in the late 1940s. She reports being impressed both by the resilience of the elders who had lived through this trauma in their youth and by the creativity of the agencies that are now working hard to develop ways to support these elders.
"The island has made remarkable strides in moving beyond those events and claiming a new identity as a popular holiday destination for travelers from across Asia," writes Stone. "Despite this progress, however, the trauma of the uprising and its aftermath still affects many older citizens who are now aging in the community."
Stone heard similar stories about the effects of trauma when one of her Cambodian hosts expressed concerns about the well-being of his parents, who lived through the brutal genocide conducted by the Khmer Rouge from 1975 to 1979.
"Fresh from my conversations with elders in Jeju, I understood those concerns," writes Stone. "But I also shared with my friend the encouraging news that there are strategies being developed, implemented, and tested around the world that could help the elders about whom he is concerned."
Those strategies include a model being implemented by Ibasho, a nonprofit organization that has helped to bolster the resilience of elders in Japan, the Philippines, and Nepal after major natural disasters.
"I don't see why the model couldn't be tailored to build resilience and foster health and meaning among elders in Jeju and Cambodia," suggests Stone.
Global Collaboration
Stone's trip to Asia helped her appreciate "the striking similarities among elders worldwide, and how those similarities create opportunities for professionals in the field of aging services to help one another support populations with unique needs."
She concludes her blog by stressing how global collaboration could help elders around the world live healthy and meaningful lives, despite the trauma they have experienced.
"I really do think that global collaboration and action will help us […] support elders who are experiencing the effects of trauma but who are eager to exercise their resilience," writes Stone.