Women in Kathmandu, Nepal work on the slow recovery process.
Vision and Spirit Are What Drives Ibasho: The Nepal Earthquake One Year Later
By Taryn Patterson
Nine thousand people perished and more than 800,000 homes were damaged or destroyed one year ago when a 7.8 magnitude earthquake violently shook the heavily populated Kathmandu Valley and surrounding villages of Nepal. Although the majority of subsequent images from this region depict widespread devastation, I was lucky enough to get a first-hand account of the hope and spirit of the Nepalese people that is a driving force behind the slow road to recovery.
I recently

traveled

to Nepal as a member of the Board of Directors for Ibasho, an NGO focused on community resilience and elder empowerment in disaster recovery. The Ibasho approach helps strengthen social capital of communities recovering from disasters or epidemics by giving community members of all ages and abilities a place where they can develop deeper connections with each other. These community hubs provide a platform for useful and relevant contributions to the community, and create an enabling environment for traditionally excluded groups, including elders, by bolstering resilience and agency.
I traveled with Ibasho founder and IAHSA board member Dr. Emi Kiyota, and Ibasho Japan Coordinator Dr. Yashuhiro Tanaka, with the purpose of meeting with local people, provider organizations, and potential partners to discuss their views on implementing an Ibasho project in Nepal. An essential component of the Ibasho model is to identify local partners who will take ownership of the project based on the needs of the community. We were contacted by a unique social venture organization in the Kathmandu Valley, Bihani (which means 'morning' in Nepali), that provides a platform for elder social and health service provision, as well as community engagement and lifelong learning.
Bihani will be our primary implementing partner throughout the process of bringing Ibasho to Nepal, and they are invaluably connected to the people and community of the Kathmandu valley. They are familiar with the unique aspects of Nepal that make it a good fit for Ibasho. Due to the migration, urbanization, and aging of communities in Nepal, traditional family support for elders has slowly been changing. Among some of the key problems faced in the target community is migration of men who seek employment, and lack of livelihood activities for elders and women, which became much more pronounced after the earthquake. For these reasons, the Ibasho model in Nepal will largely revolve around self-sustaining activities spearheaded by local elders and women's groups.
The first community that will spearhead their Ibasho is Matatirtha, a village in Kathmandu District in the Bagmati Zone of central Nepal. We met with local elders, including women in the Matatirtha old age home for women, along with the Mahila Samuha (women's group) of the village who are seeking livelihood projects after the earthquake. Additionally, we are planning to work with the local youth group, and teachers and children from the elementary school of the region.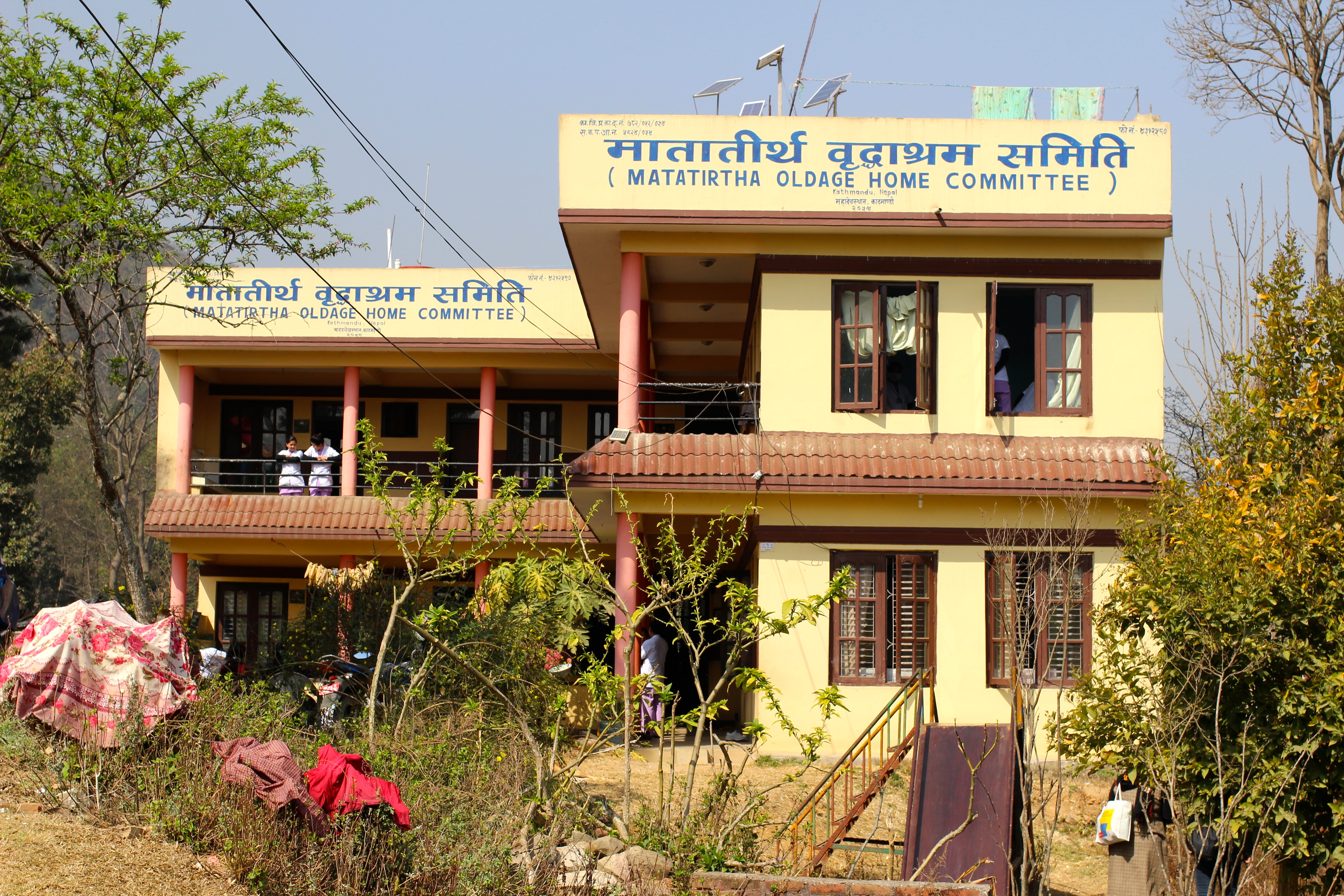 The Matatirtha Old Age Home for Women.
Next steps will be to finalize the research and planning phase with our local partners in Nepal, and begin the next exciting phase with the elders and community members of Matatirtha. They will spearhead a community-driven farming and handicraft initiative to provide a platform for livelihood, but more importantly, a platform to foster social connections across the lifespan and build a more resilient community, with older adults and women at the helm. In the birthplace of Buddha, there are thought leaders who are able to see older adulthood as a new bihani.
To learn more about Ibasho and how you can be involved, visit www.ibasho.org. You can also follow Ibasho on Facebook and Twitter

 (@ibasho_org) 

for updates.