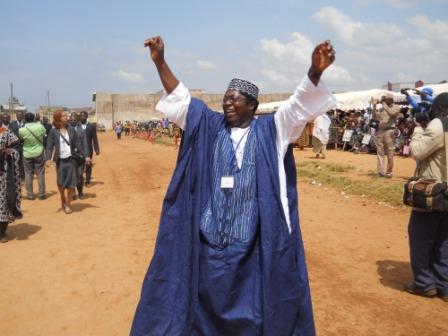 The International Association of Homes & Services for the Ageing (IAHSA) invites you to join us for an exciting talk and welcome reception with Francis Njuakom,Chief Executive of the Community Development Volunteers for Technical Assistance (CDVTA), Cameroon's leading organization in providing assistance and support to older people.  Mr. Njuakom is also the coordinator of Nouvelle Planete projects in Cameroon, and the main contact for the Common Wealth Association for the Ageing (Commonage) in Cameroon.
He has received worldwide recognition for his contributions towards building a society where elders can live fulfilled lives.  He is recipient of the 2008 Sheila McKechnie Foundation UK 2008 International Campaigner Award and, in May 2016, was made a "Knight of Cameroon Order of Valour," the second Highest Medal Honor in the Republic of Cameroon, for his over 20 years in the promotion of care and rights of older people and their dependents in Cameroon and beyond.
Ending a cross country tour of elder focused organizations and events in the U.S., Francis and his tour guide, Jack York of It's Never Too Late, will be making their final stop at the LeadingAge Office in Washington, D.C. Mr. Njuakom will share with us his personal journey into ageing services, the work of his organization and insights from his travels in the U.S.
We invite you and members of your staff to join us on 11 August 2016 from 10am – 12pm EST for what is sure to be an inspiration and treat!
Mr. Njuakom's talk will be followed by a welcome reception–light fare and libations provided. Please RSVP by 5 August 2016.
If you have any questions, please contact Mia Mullen, IAHSA, (202) 508-9420 or mmullen@leadingage.org.