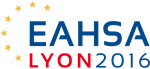 IAHSA's European Chapter, EAHSA, will be hosting its

2016 Conference

in Lyon, France 22-23 September 2016. 
The theme for this year's EAHSA Conference is "THINK EUROPEAN – ACT LOCALLY: New Business Models and Success Stories in the Provision of Care, Housing and Services for the Elderly".  The progamme will highlight trends, ideas and practises throughout Europe that can be used to address local and unique challenges.
EAHSA and FNAQPA invites you to come and join us; open your mind and your heart and be challenged; give others challenges; share what has worked and what has not worked.
IAHSA will be hosting two events in conjuction with the EAHSA Conference:
 

PLEASE NOTE THAT REGISTRATION IS NOW CLOSED FOR IAHSA EVENTS IN LYON

.  
Stay tuned for photos and details from this year's events as well as information on our biennial Global Ageing Conference and events Montreux, Switzerland.